WAM Chem. HD 952
Description:
WAM Chem HD 952 Composite hose is made from high strength polypropylene and polyester fabrics, abrasion resistant vinyl coated polyester fabric cover and polypropylene coated inner and stainless steel outer wire. Fire, abrasion, weather and ozone resistant.
Applications:
WAM Chem HD 952 is typically used in applications involving plant transfer of liquid chemicals, vegetable and mineral oils and loading and unloading of these products to and from road tankers, rail tankers and marine tanker ships.

Applicable Standard: EN 13765 Type 3
Colour Code: Grey outer cover with blue stripe.
Min Working Temp: -40°C
Max Working Temp: +100°C

Reinforcement: High strength polypropylene films and fabric
Inner Wire: PP coated steel
Outer Wire: Stainless steel
Safety Factor: 4:1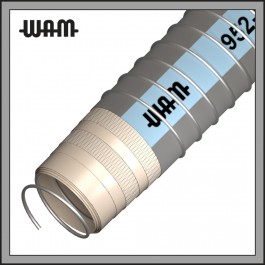 x
Inquiry Form (draggable)